#CORONAVIRUS (COVID-19) spread surge Nigeria, as NCDC seems to be loosing control over the pandemic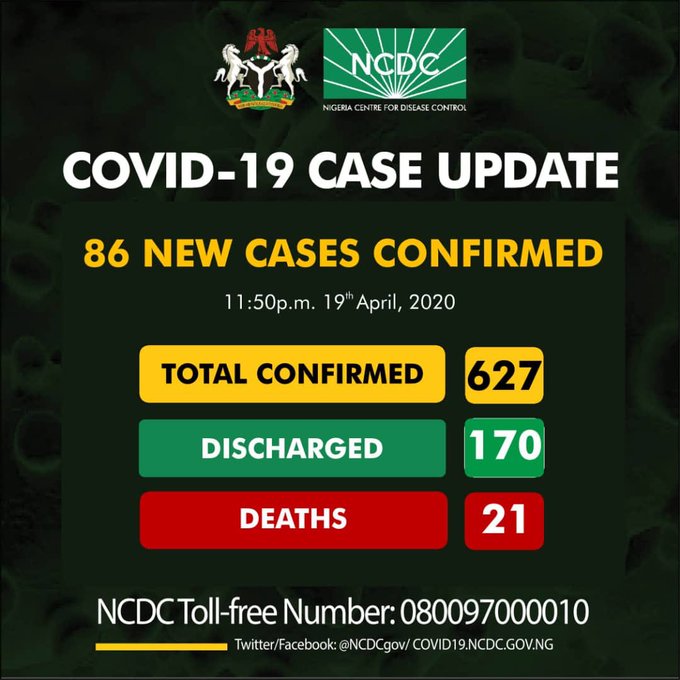 Confirmed cases of COVID-19 increases as Lagos State leads with 70 new cases.
On the 19th of April 2020, all time high 86 new confirmed cases of COVID-19 were recorded in Nigeria
Till date, 627 cases have been confirmed, 170 cases have been discharged and twenty one deaths have been recorded in Nigeria

The 86 new cases are reported from seven states- Lagos (70), FCT (7),Akwa Ibom (3), Katsina (3), Borno (1), Bauchi (1), Jigawa (1)

A multi-sectoral national emergency operations centre (EOC), activated at Level 3, continues to coordinate the national response activitie.
Seventy in Lagos has been trendinding on twitter since NCDC release their last result for 19th April, spreading widespread panic and doubt of efficacy of measures taken by NCDC.
From responses Nigerians on twitter, it seems the public is loosing hope on abilty of NCDC to contain the virus.
3 healthcare workers have been claimed so far by the novel virus namely: Dr Emeka, Dr(PT) Otegbeye and Dr Aminu.
CASE SUMMARY IN NIGERIA AS AT APRIL 19TH 2020
| | |
| --- | --- |
| Total Samples Tested | > 7153 |
| Total Confirmed cases | 627 |
| Discharged | 170 |
| Death | 21 |
| States Affected | No. of Cases (Lab Confirmed) | No. of Active Cases | No. Discharged | No of Deaths |
| --- | --- | --- | --- | --- |
| Lagos | 376‬ | 266 | 97 | 13 |
| Abuja FCT | 88 | 63 | 23 | 2 |
| Kano | 36 | 35 | 0 | 1 |
| Osun | 20 | 2 | 18 | 0 |
| Oyo | 16 | 11 | 5 | 0 |
| Edo | 15 | 8 | 6 | 1 |
| Ogun | 12 | 7 | 5 | 0 |
| Katsina | 12 | 11 | 0 | 1 |
| Kwara | 9 | 7 | 2 | 0 |
| Akwa Ibom | 9 | 5 | 3 | 1 |
| Bauchi | 7 | 6 | 1 | 0 |
| Kaduna | 6 | 2 | 4 | 0 |
| Delta | 4 | 3 | 0 | 1 |
| Ondo | 3 | 3 | 0 | 0 |
| Ekiti | 3 | 1 | 2 | 0 |
| Enugu | 2 | 0 | 2 | 0 |
| Rivers | 2 | 0 | 2 | 0 |
| Niger | 2 | 2 | 0 | 0 |
| Jigawa | 2 | 2 | 0 | 0 |
| Benue | 1 | 1 | 0 | 0 |
| Anambra | 1 | 1 | 0 | 0 |
| Borno | 1 | 0 | 0 | 1 |
| Total | 627 | 436 | 170 | 21 |